Registrations for Connections 2019 opening soon.
On May 10-12, 2019, we Go West to 

Perth for our 3rd

 national conference for disorders of the corpus callosum. This conference will be a family camp at a fully accessible, all abilities camp in Perth.
WHEN: Arrival and conference check-in begin Friday, 2pm, May 10, 2019 and the event concludes Sunday afternoon at approximately 4.30pm.
WHERE: Point Walter Recreation and Function Centre, Perth, Western Australia.
PRICES: TOTAL COSTS WILL INCLUDE ALL REGISTRATION + ACCOMMODATION FEES
REGISTRATION – Friday to Sunday: Discount available for AusDoCC financial members* 
Adult AusDoCC members – $250
Adult Non members – $300
Kids/teens 3-17 – $150
Children 0-2 – $ $40 (includes cot hire)
These prices include registration for all program sessions from Friday to Sunday, all-abilities camp adventure activities, all food from and including Friday dinner to Sunday afternoon tea (dinners, breakfasts, lunches and morning/afternoon teas), entertainment and conference materials.
Single day delegate prices are available: Member $175/day, non members $200/day, Kids Club $100/day.
ACCOMMODATION: Accommodation fees will be added to the registration fees and full payment will be required upon booking. There are different combinations for accommodation so prices will vary accordingly. Choices will be available for selection on the registration form. Rooms are all rooms of 4 (some can have 5) and contain 2 bunkbeds. Some have ensuites and some share a bathroom with another room. People will have the choice of 3-5 in a room, 2 in a room or alone in a room and prices will vary accordingly. Please consider making your booking with family and friends to access the cheapest options.
PRICES: (prices are per person for 2 night's accommodation – Friday and Saturday)
3-5 in a room: Adult – $85, Child – $75
2 in a room (limited numbers): Adult – $105, Child – $80
1 in a room (limited numbers): Adult – $160 
SUNDAY NIGHT (optional extra night – limited places):
Committee will be staying on to debrief and there will be a limited number of optional extra rooms available on Sunday night for those who don't wish to rush off. Prices are per person and include Sunday dinner, one night's accommodation and breakfast on Monday.
3-5 in a room: Adults – $85, Child – $70
2 in a room (limited numbers): Adults – $95, Child – $80
1 in a room (limited numbers): Adult – $120

Preferred payment will be by online bank transfer but PayPal will also be available. PayPal also has debit and credit card options. Details will be on the application form.
We have tried to keep costs to a minimum and hope to have some successful fundraising to raise another $30,000 to make up the shortfall. Fundraising is used for conference costs. All AusDoCC Committee of Management members plan and conduct the conference and as volunteers we have always paid full fees to attend as we also know the enormous extra costs involved. Hopefully some people may be able to access NDIS funding to assist with conference attendance. It is enhancing social access and participation and also providing training for carers and those with a DCC.  There may be other means of supported funding to explore also.
Any sponsorships or fundraising efforts to contribute to conference costs would be extremely welcome. Please contact info@ausdocc.org.au if you can help.
*Members are those adults (aged 18+) named on our registration data base as holding single memberships and include each person who has completed an application for membership of AusDoCC. Each person must be a member to gain the discount. If you are not a member you can apply for membership here ($20 once off fee) and enjoy the discount. If you are not sure, please check with the secretary by emailing info@ausdocc.org.au
KIDS CLUBS: Kids/teens (3-17) with a DCC and their siblings will have a fabulous weekend in age appropriate Kids Clubs, with qualified workers, as well as participating in some whole family activities. Unfortunately we cannot provide childcare for babies 0-2 but they are welcome to be with their families and friends, (who can be ready to escape lectures if necessary).
ADULTS WITH A DCC: Adults with a DCC will attend some of the larger presentations and family activities in addition to having some private, targeted group activities.
MEMBER DISCOUNT:  Available to each individual member or by joining AusDoCC. $20 gives an adult's (18+) ongoing membership of AusDoCC with no annual renewal fees.
COMPANION CARDS: These will be accepted for an adult with a DCC who would not otherwise be able to attend alone. The Card must be in the adult's name and the companion's primary role will be to assist the person with a DCC. The adult  with a DCC would pay for one person and the carer would be free. Please contact info@ausdocc.org.au to check eligibility and make booking.
PRESENTERS. Confirmed guests include renowned presenters Professor Linda Richards (QBI, Brisbane),  Dr Lynn Paul (Caltech, California), Dr Natasha Alexander (Brisbane) and Dr Maina Kava (Perth) with many more invitations to leading WA health and educational professionals in the ether. Presentations and workshops will also be conducted by family members of those with a DCC, individuals with a DCC and AusDoCC.
APPOINTMENTS: There will be a limited number of individual, free, 20 minute appointments available with some of the key presenters. These are always popular and book out very quickly. They will be allocated according to the order of paid registrations being received.
Go West for Connections 2019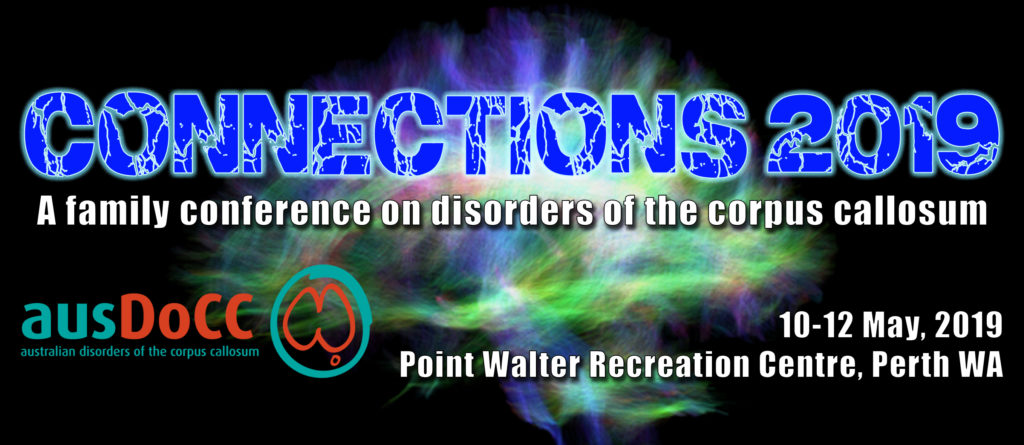 NB: All details are subject to change as planning progresses.